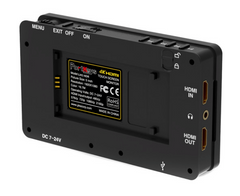 產品詳情
DETAILS
The LH5 HDR has four user-defined function keys, touchscreen and menu settings with dial, which makes for easy operation.
The Portkeys 5 "LH5 HDR Monitor delivers superb image quality in a small, compact enclosure - an economical alternative to the Small HD 5 inch monitors.
True 1920x1080 HD screen resolution offers crisp, detailed images, while the IPS screen provides better color and viewing angle.
The compact size and light weight makes the LH5s the ideal choice for lightweight rigs, gimbals and cameras.
This small monitor is equipped with all necessary software functions for the perfect shoot: pseudo-color, focus assist, clipping, as well as histogram and audio bar.
Also picture flip possible, so you can adjust the 5 "monitor to your wishes.
A contrast Ratio 1000: 1 makes the images lively, even in daylight
Connection is very easy via the HDMI input and output.
Headphone connection and audio meter display helps you set the audio level perfectly.
specification:
brand: Portkeys 
Model: LH5 HDR
Screen: 5 ''
sizes: 14.2 × 8.2 × 2 cm
viewing angle: 160 ° H / 160 ° V
brightness (nit): 1500 UltraBright
resolution: 1920x1080
contrast Ratio: 1000: 1
weight: 156g excluding battery
color depth: 24bit
BackLight: LED
material: ABS Engineering plastics
Input Volt: DC7 ~ 24 V
power: 6 W
signal Input: HDMI
signal Output: HDMI
Menu Language: Chinese / English
headphone output / input output