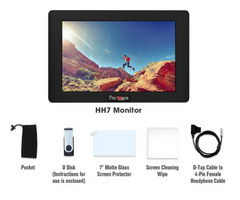 產品詳情
DETAILS
7" FHD 1200NIT High bright monitor, HDMI, Inputs&Outputs, 3D LUT, Audio Levels Meters. Support DCI 4K Ultra HD via HDMI input.
3D LUT, Histogram, Aspect, Peaking, DSLR Scaling, Zooming, Audio Post, False Color, Pixel to Pixel.
Connect Claymore wireless video transmission, HH7 will become one wireless monitor.
(never disconnected )  is really one good design for the maker at outside.
 Support Dummy Battery for your camera.