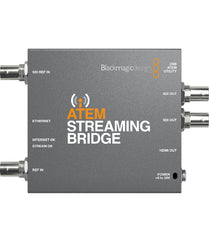 產品詳情
DETAILS
The ATEM Streaming Bridge is a video converter that lets you receive a H.264 stream from any ATEM Mini Pro and convert it back to SDI and HDMI video. This means you can send video to remote locations around your local Ethernet network, or via the internet globally!
That's possible because it uses advanced H.264 codecs for higher quality at very low data rates. Imagine broadcasters and bloggers collaborating on shows and creating global networks of ATEM Mini Pro remote broadcast studios.
Setup is easy as the ATEM software utility can create setup files that you can email to remote ATEM Mini Pro studios.
ATEM Streaming Bridge is the perfect way to use ATEM Mini Pro as a remote broadcast studio!