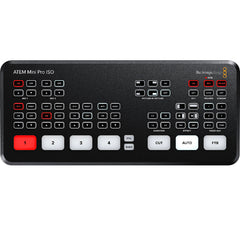 產品詳情
DETAILS
Affordable live switcher with 4 standards converted HDMI inputs, USB webcam out, audio mixer with EQ and dynamics, 2D DVE, transitions, green screen chroma key, 20 stills for titles and much more!
ATEM Mini Pro also includes recording to USB disks in H.264 format, a built in hardware streaming engine for YouTube Live, Facebook, Twitch and more, plus multiview to see all cameras on a single monitor.
Plus with the ATEM Mini Pro ISO model you also get recording of 5 streams including all input as clean feeds for editing, plus a DaVinci project file for fast edit turnaround and Blackmagic RAW file relinking for finishing in Ultra HD.