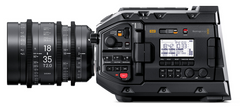 產品詳情
DETAILS
Next generation URSA Mini Pro with Super 354.6K HDR image sensor, 15 stops of dynamic range and high frame rate shooting up to 300 fps!
URSA Mini Pro 4.6K G2, is a professional digital film camera that combines incredible 4.6K image quality with the features and controls of a traditional broadcast camera!
The second generation URSA Mini Pro features fully redesigned electronics and a new Super 35mm 4.6K HDR image sensor that combine to give you much higher frame rate shooting. You also get built in ND filters, an interchangeable lens mount, Blackmagic RAW support, and both dual CFast and SD UHS‑II card recorders for capturing images at up to 300 frames per second! There's even a USB‑C expansion port that lets you record directly to flash drives or SSD disks for even longer recording times!
URSA Mini Pro 4.6K G2 features a massive number of controls intuitively positioned on the side of the camera so you can adjust most settings by feel, without ever having to take your eyes off the action. URSA Mini Pro is lightweight and comfortable enough to use all day, has controls that are extremely fast to use, and image quality that's far superior to broadcast cameras costing ten times more!
Preorder yours now!